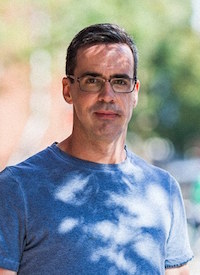 photo: Sebastian Furtado
Throughout his career, Christopher has been working in technology – from writing software, to architecting complex systems. For 6 years, he was the web system architect for McGill University's Web Service Group where he co-developed the McGill Gateway — a custom-built database-driven web publishing system. He architected and oversaw development of the server system that runs the Gateway. Prior to joining McGill, he worked as a freelance IT consultant and after leaving McGill, returned to IT consulting. There he joined the team hired by Sony Entertainment to bring Linux to the PlayStation 3. Christopher became an active member of Montreal's startup scene where he worked and consulted for several funded startups. He is currently serves as ombú's CTO as well as the IT director of a medical imaging research company.
With over a decade of formal classical music and jazz training at le Conservatoire de musique du Québec, Vanier College, Université de Montréal and McGill University, Christopher has also studied mathematics, computer science, sound recording and music technology at Vanier College and McGill University.