If you were to combine the groups of John Coltrane and Fela Kuti you would probably get something that sounds like Follow Follow. The band features Afro-Groove rhythms that won't stop, interlocking guitars and impassioned saxophones.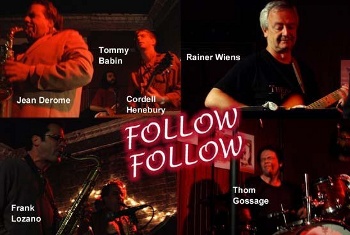 Founded in 2000 by composer and guitarist Rainer Wiens, with the sole purpose of making people dance, the band features musique actuelle legend Jean Derome and jazz veteran Frank Lozano on saxes. Master drummer and Opus Award winner Thom Gossage, bassist Tommy Babin, and guitarists Cordell Henebury and Rainer Wiens round out the group.
The music is joyous, rhythmically infectuous, and the pleasure the musicians have in playing together is immediately apparent. Follow Follow plays the music of Fela Kuti, Maceo Parker, Tony Allen, The Super Rail Band and other masters of African urban dance music. Be prepared to move!
Reviews
Flyers