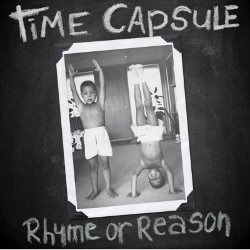 Garden

Rhyme or Reason

Can't Say Enough

Words in our Hearts

Ode

Light We Live Without

Papillon

Long Distance

Pantoufles

Barefoot in the Sand

Dream a Dream
Time Capsule brings musical drama to the stage. A combination rock opera, stage play, concert performance and surreality show featuring songs (still life tone poems) that evoke life experiences. The singers are the main cast, however, the musicians (7 piece string section, 5 piece brass & woodwinds, 7 piece rhythm section) all on stage, in costume and in character are often called upon to express the moment in question. These mini time capsules within each song allow for reflection, extrapolating with other added elements e.g. dance, video, stage play scenario etc.. Time Capsule takes the audience to a place where dreams are fulfilled, where hopes are realized.
Réalisé oar/ Produced by : Muhammad Abdul Al-Khabyyr (Maakart) & Christopher Murtagh
Claviers : Luc Beaugrand, Tilden Webb, Maakart
Guitares : Steve Washko, Gary Stephen Schwartz
Basse : Mathieu Cormier, Alexandre Paquette (Dream a Dream)
Batterie : Nasyr Abdul Al-Khabyyr, Massimo Sansalone
Percussion : Joanna Maria Peters
Cuivres : Maxime St. Pierre (tpr), François D'Amours (sax), Maakart (trb), Paul Marcotte (cor)
Flûte : Aisha Abdul Al-Khabyyr
Cordes : (vln) Philippe Dunnighan (solo), Melanie Belair, Nedjma Achour, (alt) Ligia Paqun, Christiane Lampron, (cel) Annie Gadbois, Laurence Leclerc, Carla Antoun (solo)
Voix : Marie Pierre Guilbault (Solo 1, 4, 8), Kasmir Degré-Grandsoult (solo 2,5,7,9), Stacei Tabb (solo 2,3), Freddie James (solo 2.6.8), Chloé Gravel (solo 10), Niosa (solo 11), Andréane Roy -{ Papillion(pep) Sayydah Garrett, Zayd Abdul Al-Khabyyr, Maakart } -{Dream a Dream (choeur) Maegan Araujo, Maximilien Beaugrand, Tyler Bradley-Allen, Jonathan Brissette, Laurence Caron, Justin Hungerbuhler, Anthony Strina, Directrice: Joanne Donato Thomas
Ingènieurs : ombú, Gaétan Pilon (Studio Victor), François Pagé, François Legault
Mix : Fred Salter
Mastering : Paul Blakemore
Illustrations: Caroline Caron
Graphisme : Candice Nixon
Photo : Lucia (Iltchenko) Thomas
Bureau : Frances Inez Hetlam
Agent : Les Productions Deux C
Consultant musical : Sayyd Abdul Al-Khabyyr
L'équipe ombú : William Dueck, Avery Gietz, Christopher Murtagh
Compositeurs : Muhammad Abdul Al-Khabyyr [trak 1 à 10] (socan), Maakart & Miosa [trak 11] (socan)
Auteurs : Muhammad Abdul Al-Khabyyr (1,2,3,5,6,7,8,10,11), Daniel Andrew Curtis (Light we live Without), Frank T. Hetlam (Words in our Hearts – hommage à Charles M. Schultz), Maakart & Maxime St. Pierre (Pantoufles)