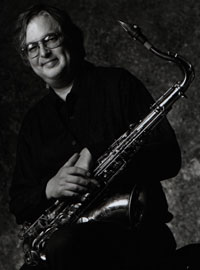 Paul Cram
PCO leader and composer
Paul Cram has been a freelance musician for most of his life, and a composer for the past 25 years. His interest in creative music began in the early Seventies when he first heard the music of Charles Mingus, the Art Ensemble of Chicago, Cecil Taylor, Sam Rivers, Anthony Braxton, Willem Breuker, and a host of others.
In 1982, he embarked on a career as a composer and bandleader touring small groups around Canada. In 1985, in response to a request from the burgeoning Toronto Jazz Festival, he started the first incarnation of the Paul Cram Orchestra. With the help of the Canada Council for the Arts, the band recorded one Juno-nominated record "Beyond Benghazi" ("…the sleeper of 1987." – Philadelphia Enquirer) with special guest saxophonist, Julius Hemphill.
Ten years later, Cram formed the new version of the PCO in the Maritimes. He re-arranged compositions from the original PCO, the Hemispheres Ensemble and the Upstream Ensemble, and he created some new works. The new ten-piece band is comprised of some of the finest musicians from Atlantic Canada, all of whom are stellar interpreters and improvisers.
The new PCO debuted at the Atlantic Jazz Festival in 1998, and performed there again in 1999. In the spring of 2000, the band toured Canada for the first time with dates in Halifax, Toronto and Ottawa, and at the International Festival of Musique Actuelle Victoriaville in Victoriaville, Quebec. The PCO completed its second Canadian tour in September 2001 in support of the band's debut CD on the Victo Label entitled "Campin Out". The group played Halifax, Ottawa (National Library of Canada), Guelph (Guelph Jazz Festival), Vancouver (Western Front), and Montreal (Sala Rossa).
In July 2002, the group completed a cross-Canada tour which took them to the Yardbird Suite in Edmonton, the Vancouver Jazz Festival, the Off Festival in Montreal and the Atlantic Jazz Festival.
The PCO was recently nominated for a National Jazz Award 2005 for Best Big Band, and Paul Cram was nominated in the Best Composer category.
The PCO's newest CD "Live in Lisbon" on the ombú productions label will be available online and in stores September 2005.