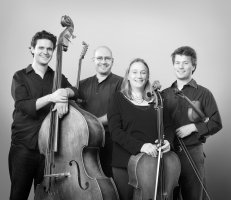 photo: H. Fortin Skye Consort was formed in 1999 and since then has toured and participated in chamber music festivals across eastern Canada. The group's original goal was to bring an art-music aesthetic to the folk genre, but for this project the pendulum has swung the other way, and the musicians give art music and some old folk music a fully modern treatment. Skye Consort plays this collection of songs and dances without regard for historical or musicological constraints,instead bringing the music to life for modern ears. These are festive songs played festively, love songs played romantically, and drinking songs played drunkenly.


photo: H. Fortin Seán Dagher regularly performs Celtic folk music in Québec and Ontario and has played as far afield as Ireland and Switzerland. He has played medieval music with La Compagnie Machaut and Mandragore.


photo: H. FortinAlex Kehler mainly plays Celtic, klezmer, and baroque violin but is able to play any style with equal deftness and musicality. For over a decade he has been one of Montréal's most sought-after violinists.


photo: H. Fortin Amanda Keesmaat plays continuo in numerous baroque ensembles in Montréal. She is a founding member of Les Voix Baroques and has toured Canada.


photo: H. Fortin Andrew Horton divides his time between playing bass in modern and baroque orchestras and chamber ensembles and singing and playing guitar in bluegrass bands, most notably The Andrew Horton Band.