Ensemble KORE has been producing concerts in Montreal since its founding in 1997 by Marc Couroux and Michael Oesterle. Ensemble KORE's programming has presented a balance between commissioned works and existing music to which the Montreal public might not otherwise be exposed. The group's inaugural concert in November of that year was an exchange with Apartment House (UK). The Montréal-Amsterdam concert (1999) was sponsored by the Royal Dutch Embassy as part of McGill University's MusiOctober Festival, and paired young composers from two vital centres of contemporary music activity.
Later in 1999, Ensemble KORE initiated a series of "dual-composer" concerts which presented music by composers whose works complemented one another in unexpected and revealing ways. The series, recorded by Radio-Canada for the Résonances program, consisted of Howard Bashaw – Claudio Ambrosini (1999), James Harley – Helmut Oehring (2000), and Clarence Barlow – Gyula Csapó (2001). Meanwhile, Ensemble KORE began presenting "immersive concerts" as a means of further delving into an individual composer's unique musical world. For example, Chris Newman: Truth and Beauty (2000) made extensive use of the composer's idiosyncratic vocal performance in order to present an intimate portrait of his work.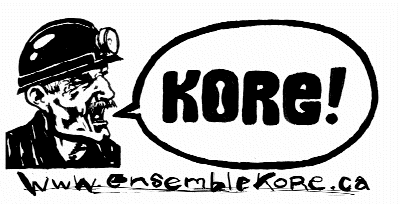 Michel-Georges Brégent: Grandeur (2002) was one of Ensemble KORE's most ambitious concerts, featuring several works never before performed due to their level of difficulty: Breathing for accordion and Mitzvot for saxophone quartet and live electronics. The Brégent concert was also the first to use video, which has become an increasingly important artistic component of recent concerts (Marc Couroux: PR, 2003; Nicole Lizée: Double Platinum, 2004).
In 2002, KORE also presented Strike the Ear, a two-week event featuring composers-in-residence Gerhard Stäbler and Kunsu Shim, with two concerts by Ensemble KORE as well as concerts by Motion Ensemble and percussion students from the McGill University Faculty of Music.
Many of Ensemble KORE's recent concerts have involved theatrical elements, such as "micro-operas" in three events: Tom Johnson: The Last Minimalist (2002), Peter Hatch: Dans la tradition de l'instant 2003), and Rudolf Komorous: Au pays des merveilles (2003). Gerhard Stäbler's drüber featured eight "active screamers" positioned throughout the performance space, confronting audience members with a wide variety of vocalizations and actions. Since 2001, the administration of Ensemble KORE has been shared by Marc Couroux, Michael Oesterle and Justin Mariner.