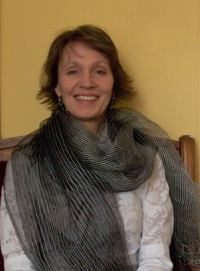 Karen Potje
Photo: Linda Eerme Ontario-born Karen Potje's childhood disdain for country music was turned upside down in 1989 when she moved from Montreal to Texas. With hurtin' songs and Honky Tonk filling the airwaves, she couldn't help loving the stuff and writing some of her own. Keeping an open mind and ear, though, she also sang classical music, and soon auditioned for an alto spot in the Dallas Symphony Chorus. What came next? Carnegie Hall of course (for Karen and the other 229 chorus members, as they performed at 100th anniversary celebration of that famous concert venue).
Writing songs about whiskey and heartache, and all the while rehearsing Mozart's C minor Mass, might have been enough. But when Karen's first son was born, her heart took off in a new direction and her songs followed. On a sweaty June day she paced her Dallas driveway, squalling baby in her arms, and wrote Baby's in a Slump. (Mom was in a bit of a slump too.) Slump was the first of many songs about babies, kids, toddlers, parents — how they see the world and each other. Often spiked with sassy humour and sarcasm, always brimming with affection, these are good stories about real people.
Returning to Montreal, one baby in tow and another soon to arrive, Karen began to develop a solo repertoire that included jazz standards, classic Leonard Cohen and Hank Williams, and her own expressive and honest compositions. In a voice that still holds a hint of country warmth she now performs her "grown-up" songs in Montreal acoustic venues, including three recent performances at The Yellow Door, Canada's longest-running coffee house.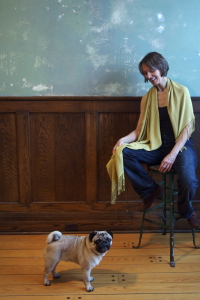 photo: Scott McLeod With her two boys growing up (and years of sleep deprivation slipping into the past), Karen has been able to focus on her first recording project. Can't Help But Love You, Baby, set for release on May 24, 2008, finds Karen teamed up with some of Montreal's finest musicians to create an album that will delight adults and kids alike.
While she brings Can't Help But Love You, Baby to family audiences, Karen will also keep on performing and developing that "grown-up" repertoire. From heart-felt ballads like Too Late, Too Long, Too Old and the biting irony of Dead Ringer to the starry-eyed Tear Ourselves Away, Karen writes what's in her head and heart. Her intelligent lyrics and memorable melodies are built on rhythms ranging from blues shuffle to waltz to western swing. And her stories are built on real life.