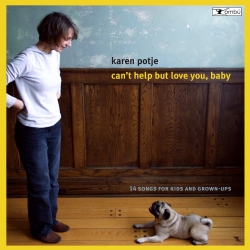 Bunnies on my PJs

Let's Give the Baby a Bath

Cuddlepup

Look Before You Eat

Ten Feet Tall

Better Keep Your Shoes On

Hug-a-bug Pug

No Frills

Garbage Day

Lullaby For You

Baby's in a Slump

Short

A Song About Ferrets

Can't Help But Love You, Baby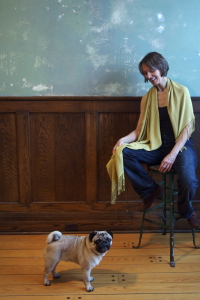 photo: Scott McLeod
Karen Potje delivers a delightful collection of 14 songs for and about bleary-eyed parents, disgruntled babies, quirky pets, brainy big brothers and sisters, and everyone who knows and loves them. Can't Help But Love You, Baby is a CD for grown-ups that kids will adore, and a kids' CD that grown-ups will love to listen to — even after the 40th time in a row!
Karen Potje's warm, lively voice and captivating lyrics are backed by a distinguished ensemble of Montreal's finest musicians: Jordan Officer (guitar),Joshua Lebofsky (piano/B3), Philip Hornsey (drums), and Rob Fahie (bass) with Alex Kehler (violin). Sophisticated jazz and sweet country with a bit of rock and roll and cha-cha thrown in for fun, Can't Help But Love You, Baby is a pleasure for all.
You'll sing and swing to Bunnies on my PJs (one baby's scathing indictment of footsies), Lullaby for You (the poignant plea of a loving parent to the baby who refuses to sleep), Hugabug Pug (you'll snort and snuffle along), Garbage Day (the song the band still can't stop singing – at least one day a week), and more. Discover one of the newest and brightest singer/songwriters in music today, Karen Potje, with her debut CD Can't Help But Love You, Baby.