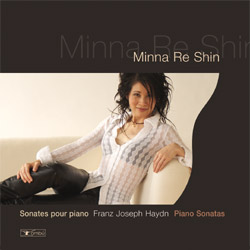 | | |
| --- | --- |
| Sonata No. 47 in B minor, Hob. XVI: 32 | |
| Allegro moderato | 8:52 |
| Menuet | 13:42 |
| Finale: Presto | 6:43 |
| | |
| --- | --- |
| Sonata No. 30 in D major, Hob. XVI: 19 | |
| Moderato | 18:17 |
| Andante | 19:40 |
| Finale: Allegro assai | 4:37 |
The two selected keyboard sonatas were composed during his Eszterházy court position in 1776 and 1767 respectively. Representing two different "periods" of his compositional journey, the sonatas differ in character, form, and style. Both works showcase Haydn's highly imaginative and sophisticated writing. What particularly awaits the listener within each of these individual works is the discovery of a true musical "jewel." Pure and classical in expression, they illuminate the composer's fine, powerful artistry and exquisite expressiveness.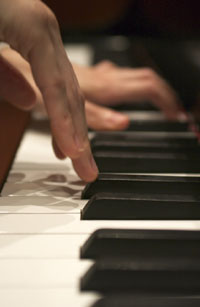 photo: Yves Lacombe
Sonata No. 47 in B minor, Hob. XVI: 32
The B-minor Sonata reveals a mature and refined compositional style and a brilliant and vigorous pianistic idiom. This work, with its minor-tonality preference, its contrapuntal texture, and its chromatic inflections and harmonies, reflects the drama and moodiness of Sturm und Drang. Yet despite its romantic tendencies, it maintains a delicate balance between "the work of the mind" and "the work of the heart."
Sonata No. 30 in D major, Hob. XVI: 19
Many of Haydn's contemporaries have criticized the composer's "parody" of C. P. E. Bach in this D-major Sonata. Although stylistic parallels to the older master's style are present in this Haydn work—the frequent use of wide leaps, transparency of the two-part writing, and the interplay between extreme low and high registers—C. P. E. Bach's style is not closely copied. While its spirit is respected, Haydn's own personal quest is well under way.
Minna Re Shin's Interpretation
Minna Re Shin brings new insight to the two piano sonatas by Franz Joseph Haydn featured on this CD. Her unique interpretation is inspired by the life of Haydn, in particular, his time as Kapellmeister at the court of the Hungarian Eszterházys. She sees the composer from a feminist point of view, unveiling the sensuality that Haydn sought to express in his music. Cognizant of the role that women had played in the composer's creative genius (i.e. the women who inspired him and for whom he wrote this music), Minna Re Shin succeeds in bringing out the simplicity and the style for which Haydn is known.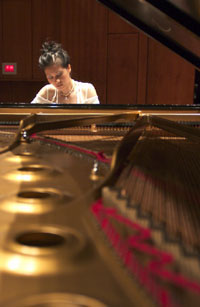 photo: Yves Lacombe
Reviews
"A kind of musical racism exists from the sometimes-heard claim that all Asian performers are petite mechanical perfectionists without soul. Nonsense! As proof, this beautiful disc of Canadian Minna Re Shin (…) is entirely devoted to the sonatas of Haydn. The playing is as fine as lace. All the notes are there, but it is the supplementary presence of emotion that makes the difference." – Ici Montréal
"The pianists Alfred Brendel and Andräs Schiff have brought us their colorful renderings of the Haydn sonatas which we happily welcome, and it is now the turn of the young Montrealer Minna Re Shin. These sonatas 'reveal Haydn's highly imaginative writing.' We have complete faith in him, since this young woman loves her subject, and it is with great sensitivity and intelligence that she enters the pantheon of great performers." – Le Journal de Montréal
"The tone is exquisite, and [Minna Re Shin's] impeccable sense of registral balance, articulation and contrapuntal delineation makes this recording a real treasure." – Andrew MacDonald, composer
"In the intellectual strength and transformative character of her interpretation, Minna Re Shin has accomplished for Haydn what her compatriot Glenn Gould did for Bach, some 49 years ago." – Jim Tuller, music connoisseur