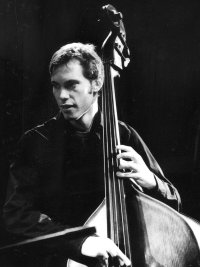 Miles Perkin
Common Thread leader and composer
Photo: Michael Slobodian
Miles Perkin is a Canadian musician born in Brandon, Manitoba. He performs in a variety of contexts ranging from new music, jazz, rock, folk, world, improvised, experimental music and music for contemporary dance. He has performed in Canada, the United States, Holland, France and Germany.
He leads a 6 piece ensembe Common Thread which is his main compositional outlet. His debut CD with Common Thread was released in 2005 with ombú productions.
In additon to Common Thread he is currently involved in the following projects: Philippe Lauzier's trio Lauzier-Perkin-Kuster, Thom Gossage Other Voices, duo with pianist Benoit Delbecq, Erik Hove Trio, Joe Grass Band, Jason Sharp Mobius, Gary Schwartz Public Transit and J.S. Williams Trio. He also performs regularily with Moondata LABprojects and contemporary dance productions by choreographer Isabelle Van Grimde.
Miles has also performed with Joel Miller Mandala, Francois Bourassa Trio/Quartet, Plaster, Bob Brookmeyer, blink blink blink, Dave Binney, Christine Jensen Quartet, Cathrine Potter's Dunya Project and Rainer Weins' Follow Follow.
Miles Perkin holds a bachelor of music degree in performance from McGill University. In 2004 and 2005 he was awarded grants from the Canada Council for the Arts to record and study. He currently lives in Montreal, Quebec.
Common Thread
Since Miles Perkin founded Common Thread in 2003, the quintet has been his primary compositional outlet. The name Common Thread refers to the manner in which composition and improvisation influence each other. Common Thread's music is through-composed and has a story-telling quality to it. The works performed by this ensemble draw from a blend of diverse elements that often push both musicians and listeners into new and challenging sonic territory.
Common Thread is:
Erik Hove – Alto Saxophone
Chet Doxas – Tenor Saxophone, Clarinet
Josh Rager – Piano, Fender Rhodes
Thom Gossage – Drums, Percussion
Miles Perkin – Bass, Voice, Composition, Bandleader