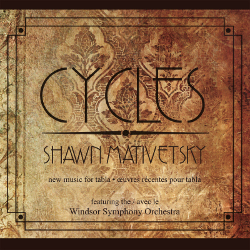 Elementalities flute, vibraphone & tabla (Christien Ledroit © 2000-2007)
1. Elemental I
2. Cereal
3. Floating
4. Elemental II
5. Metal Jacket tabla & harmonium (Nicole Lizée © 2005)
6. Les arbres célestes tabla & tape (Bruno Pacquet © 1994)
7. Shadow Play flute & tabla (Jim Hiscott © 2007)
8. Ke-Te tabla (Paul Frehner © 2006)
9. Trade Winds concerto for tabla & string orchestra (Christien Ledroit © 2003)
The tabla is the most popular percussion instrument of Northern India. It can be heard in Indian dance, devotional, folk and film music. The tabla is an integral part of North Indian classical music, where it can be performed solo, in dance accompaniment or to accompany melodic instruments. The instrument made its debut approximately 350 years ago, having evolved from drums with a history dating back over 2000 years.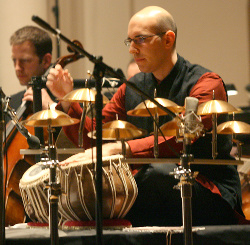 photo: The Windsor Star/Scott Webster
Over the past decade, Shawn Mativetsky – percussionist, composer and educator – has been working to combine his dual backgrounds in both Western and Indian classical music by commissioning new music for the tabla. The resulting works draw their inspiration from Western and Indian music in varying degrees, and reflect the personalities and approaches of the individual composers. The tabla, with its quasi-melodic sonorities, is a unique percussion instrument that produces a colourful palette of sounds, rhythms of extreme intricacy, and music of great depth and vibrancy. Disciple of Pandit Sharda Sahai of the Benares gharana of tabla, Shawn Mativetsky is highly sought- after as a versatile tabla artist. As an ensemble musician, Shawn Mativetsky performs regularly with violinist Parmela Attariwala's cross-cultural Attar Project, Indian-fusion ensemble Ragleela, and the Indian-folk group Galitcha. Shawn has performed numerous solo recitals, spanning Canada, the United States, England and India. He has been featured in series such as the Windsor Canadian Music Festival, New Music in New Spaces, Groundswell, Festival Montréal Baroque, Jusqu'aux Oreilles, Evolutions, Voyages: Montréal-New York, Festival International du Domaine Forget, New Works Calgary, Music Toronto and the Percussive Arts Society International Convention. As a practitioner of Indian classical music, Shawn regularly gives solo tabla performances, as well as accompanying kathak dance, voice, bansuri, sarod, santoor and sitar artists.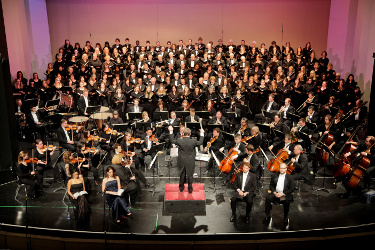 photo: Trevor Booth Photography
Elementalities is a set of short pieces, all based on different presentations and mutations of musical elements. Elemental I and Elemental II are mostly unmetred, giving a free-flowing feeling to the material. As its title would punnily suggest, Cereal is composed using serial techniques based on materials from the other movements; while the tabla part is entirely composed in the other movements, here the optional tabla part is improvised. In Floating, the rhapsodic flute line 'floats' above the underlying ostinatos, gradually increasing in density, played by the tabla and vibraphone.
Inspired by K.K. Downing and Glenn Tipton circa 1983, Metal Jacket explores the raw, gritty qualities of the tabla and harmonium. At points in the work, the roles of the two instruments are reversed as the harmonium produces percussive sonorities and the tabla provides the melodic content through use of the tuning hammer. The work showcases the lower register of the harmonium, exploit- ing its rich, resounding tone, and emphasizing its compulsory need to "breathe." Like Downing and Tipton, the two sound sources at times intertwine to create detailed harmonic material and synchro- nized grooves. At other times, they trade off in a duel-like fashion.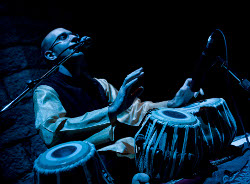 Inspired by the famous Montreal ice storm of 1998, Les arbres célestes contrasts the warmth of individual life, the coldness of cosmic space, fantastic and celestial, created by the combination of live tabla and prerecorded tape, based on the composer's personal experiences during the storm. In Shadow Play, composer Jim Hiscott took his inspiration from Balinese shadow puppet theatre and married it with the Benares tabla tradition. The flute and tabla chase after each other in playful fashion, with each in turn taking on the role of soloist and accompanist.
Though the art of tabla solo is highly developed in the Indian classical tradition, the tabla normally does not appear alone; it is accompanied by a melodic instrument. In Ke-Te, composer Paul Frehner sought to create an unaccompanied tabla solo. It is interesting to note that in contrast with a traditional tabla solo, which features much spontaneous improvisation, Ke-Te is principally composed, with only a couple of instances where ad lib is indicated.
Composer Christien Ledroit sought to create a tabla concerto in his work Trade Winds, combining elements from the Indian classical tabla solo form with elements of a Western classical concerto. The title alludes to the winds that allowed East and West to meet, trade and exchange ideas. Inspired by Indian musical aspects such as kaida (a composed theme with improvised variations), tihai (rhythmic cadences), and taal (rhythmic cycles), Ledroit treats these materials in new ways, bridging the musical gap between East and West. In addition to playing tabla, the soloist also plays a setup of SABIAN Resonating Bells and two gongs.
Joining Shawn on this project are some very talented performers and composers:
Instrumentalists
Marie-Hélène Breault, flute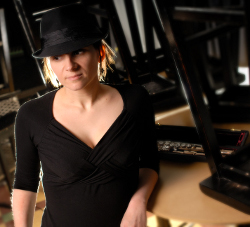 Marie-Hélène se produit régulièrement avec divers ensembles montréalais, dont la Société de musique contemporaine du Québec, l'Ensemble contemporain de Montréal + et Oktoecho. On a aussi pu l'entendre dans diverses productions de Codes d'Accès, d'Innovations en concert et des Jeunesses musicales du Canada et elle a participé à de nombreux projets de créations. Boursière du Conseil des arts et des lettres du Québec, du Conseil des Arts du Canada et du Fonds québécois de recherche sur la société et la culture, elle s'est mérité divers honneurs dont deux prix d'interprétation au Stockhausen-Kurse de Kürten et le Prix d'excellence Desjardins pour étudiant-chercheur de l'ACFAS. Diplômée du Conservatoire du Québec (Prix avec grande distinction), de Yale University (Artist Diploma) et de l'Université de Montréal (Doctorat en interprétation), ses principaux professeurs ont été Lise Daoust, Kathinka Pasveer et Ransom Wilson. Parallèlement à son activité à titre d'interprète, Marie-Hélène travaille actuellement sur une thèse de musicologie portant sur le rôle de l'interprète en création musicale. Elle assure également la direction artistique d'Erreur de type27 et siège au conseil d'administration du Conseil québécois de la musique.
Catherine Meunier, vibraphone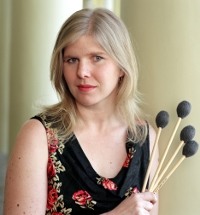 photo: Josée Lambert Catherine Meunier is the first percussionist to win the prestigious Prix d'Europe. Her debut CD Night Chill is acclaimed by critics: "Montreal percussionist Catherine Meunier shines throughout" (The WholeNote, December 2009). As a soloist and chamber musician, Catherine Meunier has given concerts in Canada, Mexico, Taiwan and Japan. She has been a guest soloist with the Orquesta Sinfónica Nacional of Mexico, the Orchestre symphonique de Sherbrooke, the Orchestre symphonique Longueuil and Ensemble Prestissimo. She is an active performer of contemporary music, having premiered many works for marimba or percussion. She is adjunct professor of percussion at the Crane School of Music SUNY-Potsdam since 2010. Catherine Meunier completed her Doctor of Music in Performance at the Université de Montréal. She also holds degrees from the Peabody Institute of the Johns Hopkins University, McGill University and University of Sherbrooke.
Catherine Meunier is an artist sponsored by the Pearl/Adams Corporation.
Xenia Pestova, harmonium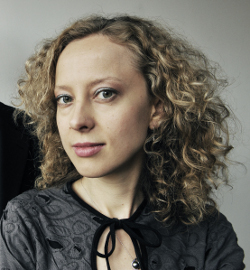 photo: Sanja Harris Xenia Pestova is a performing musician currently based in North Wales. Her awards include the unanimous First Prize at the 2004 Xavier Montsalvatge International Piano Competition in Girona, Spain, a Special Mention at the 2003 Messiaen International Piano Competition in Paris, and Second Prize at the 2000 KeriKeri National Piano Competition, New Zealand, as well as grants from the New Zealand Arts Council and Canada Council for the Arts.
Xenia has appeared at international festivals including Archipel (Geneva), Christchurch Arts Festival (New Zealand), Musica (Strasbourg), Ottawa International Chamber Music Festival (Canada), Rainy Days (Luxembourg), Royaumont (France), Sonorities Festival of Contemporary Music (Belfast) and Spark Festival of Electronic Music and Arts (Minneapolis). In addition to solo projects, she is active as an ensemble pianist and has performed with ECM+ (Montreal), Stroma (New Zealand), United Instruments of Lucilin (Luxembourg), and the Luxembourg Philharmonic Orchestra. She has a duo with Amsterdam-based pianist Pascal Meyer, which focuses on exciting and dynamic repertoire of the present day, and is a founding member and artistic director of the Contemporary Keyboard Society. 
Xenia has commissioned, premiered, recorded and broadcast over a hundred new works and often collaborates with composers and music technologists on interdisciplinary creation. She is Head of Performance at the Bangor University School of Music and a Schoenhut Concert Artist.
Brian Current, conductor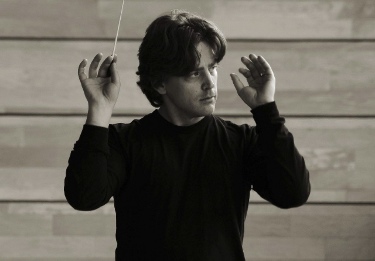 As a conductor Brian Current is dedicated to creating exceptional performances of contemporary music from North America and abroad and –just as important – is committed to demystifying these works for audiences of all ages and backgrounds.
Brian has conducted a wide range of contemporary repertoire from Ligeti and Varèse to George Benjamin and Magnus Lindberg. He has championed numerous works by living composers, including commissioned premieres by Andrew Staniland, Robert Lemay, Linda Smith and Omar Daniel. Through his international work as a composer he has brought many previously unheard pieces to Canada, including music by Akira Nishimura, Enno Poppe, Fabien Levy and Stefan Niculescu. He also seeks to seamlessly include electronics into performances and has commissioned and programmed works that feature the orchestra performing alongside new technology.
Brian's mission as a conductor is to improve the dialogue between listeners and composers. Through a stage manner that is friendly and engaging, audiences are encouraged to listen for features common to 21st century music such as texture, colour or irregular rhythms. Examples from the orchestra are often used. To this end, in 2008 Brian created the large-scale work A Young Person's Guide to New Music for Symphony Orchestra, in which a narrator describes aspects of 21st century music while the orchestra demonstrates in real time. He is also regularly involved with educational activities and gives talks to groups of music teachers and specialized visits to school orchestras.
Since 2006 Brian has been the director of the New Music Ensemble of the Glenn Gould School (Royal Conservatory), which is active in performing works for large ensembles in venues throughout Toronto. Students are encouraged to commission and perform new works throughout their professional careers.
Described by the Globe and Mail as a conductor "with assurance and no undue fuss", Brian has conducted with New Music Concerts, the Thunder Bay Symphony Orchestra, Canadian New Music Projects, the Kensington Symphonietta (Calgary), Soundstreams (Toronto), Continuum (Toronto), Mark Neikrug's Through Roses (Centre for the Arts), the Blue Engine String Quartet (Halifax), CBC's In Performance and On Stage as well as the Esprit Orchestra's New Waves Festival . On the Juno-nominated recording, This Isn't Silence, Works for Symphony Orchestra, Brian conducts his own Concertino in a performance by Robert Aitken and the New Music Concerts Ensemble.
In October of 2009, Brian Current was the artistic director of Nuit Blanche at the Royal Conservatory in Toronto.  In celebration of the opening of the new Koerner Hall, Brian directed over 200 musicians, singers, staff, volunteers and electronics in an installation performance of James Tenney's In a Large Open Space which spanned the entire building and lasted 12 hours. Musical direction was sent via mass text messaging. An estimated 15 000 people attended throughout the night.
In May of 2010, he presented Brian's Picks, as guest curator and conductor with New Music Concerts of Toronto. Recorded for CBC Radio 2, the concert presented composers of internationally recognized young composers, as performed by Toronto's top soloists and members of the Toronto symphony. In April of 2009, following a 6-month composer residency in Japan, Brian presented a full evening of large-scale works by Japanese and Canadian composers in the new Conservatory Theatre of the Telus Centre. Other themed concerts include "What is Spectral Music" (December 3 2009) and "Music and Social Ethics" (April 10, 2010).
As a graduate student at UC Berkeley, Brian studied conducting with David Milnes and was the director of the Berkeley Summer Symphony. He was selected to take part in the National Arts Centre Conducting Training program in 2000, where he worked with Jorma Panula and conducted the National Arts Centre Orchestra.
Brian Current lives in Toronto and is active as a professional composer of music for symphony orchestras. His music has won numerous international prizes and has been broadcast in over 35 countries. He is on the boards the Toronto Arts Council, the Canadian League of Composers and New Music Concerts.
Composers
Paul Frehner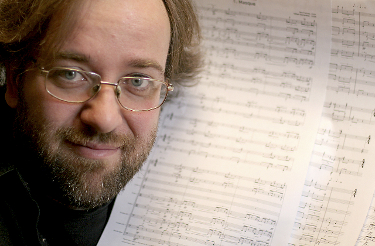 Born in Montreal in 1970 Paul Frehner's first musical experiences came from playing guitar in several rock and folk music bands. He studied music formally at Marianopolis College and at McGill University where he completed his Masters and Doctoral degrees in composition while studying with Brian Cherney and Denys Bouliane.
Paul Frehner's works have been performed and broadcast nationally and internationally by professional soloists, ensembles and orchestras including, among others, Almeida Opera, the Montreal Symphony Orchestra, the Esprit Orchestra, the Prague Philharmonia, the Malaysian Philharmonic Orchestra, the North Holland Philharmonic Orchestra, The Estonian Philharmonic Chamber Choir, the Tallinn Chamber Orchestra, Continuum, BIT20 Ensemble, the CBC Vancouver Orchestra, the Winnipeg Symphony Orchestra, pianists Brigitte Poulin and André Ristic, the Ensemble contemporain de Montréal, Le Trio Fibonacci and the Quasar Saxophone Quartet.
In 2001 he was commissioned by the Genesis Foundation to compose Sirius on Earth, a one hundred-minute opera based on a libretto by Angela Murphy. Co-produced by Almeida Opera and Aldeburgh Productions, Sirius on Earth was premiered in 2003 during the Almeida Opera Festival in London, England. It was subsequently toured to Aldeburgh where it opened the 2003 Proms season in Snape Maltings concert hall.
Paul Frehner has received numerous awards and mentions for his compositions both in Canada and on the international scene. Notable among these was the First Prize in the Prague Philharmonia's Symphony of the Third Millennium Composition Competition for his orchestral work Elixirs. In 2000 he won First Prize in the Jeunesses Musicales World Orchestra's International Composition Competition for Overture 2000. Recently, his work Lila was awarded the Claude Vivier National Award in the Montreal Symphony Orchestra's International Composition Competition. The MSO's performance of Lila was broadcast live in Canada and throughout the European Union.
Recently completed compositions include: Berliner Konzert (2009) for piano trio and string orchestra, commissioned by Soundstreams Canada and the Wurttemberg Chamber Orchestra Heilbronn in celebration of the 20th anniversary of the fall of the Berlin Wall; Ochus Bochus (2009), a work for orchestra commissioned by the Ensemble contemporain de Montreal and the McGill Chamber Orchestra; God Save the Human Cannonball (2009) for fifteen players; The Seven Last Words of Christ (2008), a cantata for high voice, choir and string orchestra; and Trance (2007), a Radio France commission for string quartet. Several of Frehner's compositions have recently been released on CD including Finnegans Quarks Revival for solo piano, Quarks Tropes for piano trio and Song of the Soul for two percussionists.
Currently, Paul Frehner is composing a twenty-minute work for two chamber choirs and percussion quartet. It will be premiered by the Stuttgart Chamber Choir, Soundstreams Choir 21 and TorQ Percussion Quartet in February 2012 in Toronto. Following this he will be composing a new work for the Esprit Orchestra to be premiered during their 30th Anniversary Season in 2012-2013.
Paul Frehner is on the Faculty of Music of the University of Western Ontario where he teaches composition, orchestration, electroacoustic music and co-directs the Contemporary Music Ensemble. He is also featured as a conductor with Orchestra London.
Jim Hiscott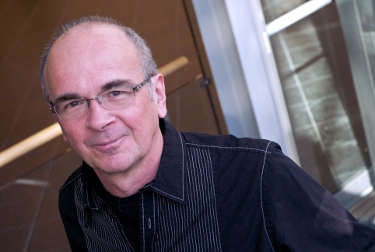 Jim Hiscott was born in 1948 in St. Catharines, Ontario. In 1971, after earning a Master's Degree in Theoretical Particle Physics, he switched to music composition, studying with Samuel Dolin at the Royal Conservatory of Music and David Lidov and Richard Teitelbaum at York University. He is the recipient of the Creative Arts Award of the Canadian Federation of University Women. His compositions have been performed across North America, in Europe and Asia by many artists including the Hilliard Ensemble, the St. Lawrence String Quartet, the Winnipeg Symphony Orchestra, the Montreal Symphony Orchestra, the Vancouver New Music Society ensemble, Rivka Golani, Arraymusic, and Philadelphia's Relâche.
Jim Hiscott has performed his own works for button accordion in the Winnipeg Symphony Orchestra's New Music Festival, the Vancouver New Music Society series, Toronto's Big Squeeze Festival, and on the main stage of the Vancouver Folk Music Festival. He has appeared as button accordion soloist with the Montreal Symphony Orchestra, the Niagara Symphony, and the New Orchestra of the Kitchener-Waterloo Symphony, and the Winnipeg Symphony Orchestra.
Recent premieres of music by Jim Hiscott include TANGLE (oboe, double bass, percussion), performed by Caitlin Broms-Jacobs, Meredith Johnson and Ben Reimer, SPIRAL (two violas), performed by Daniel and Michael Scholz; I SPOKE TO NO ONE… (chamber ensemble), given by the GroundSwell Ensemble conducted by Earl Stafford; THE SONG OF THE STARS (version for soprano, string orchestra and guitar) given by Maria-Luz Alvarez with the Manitoba Chamber Orchestra Players and Rodrigo Muñoz; SHADOW PLAY (flute and tabla) performed by Laurel Ridd and Shawn Mativetsky; MANIMASII AURA (button accordion and chamber ensemble), with Simeonie Keenainak and the CBC Radio Orchestra conducted by Alain Trudel; BEATING HEART (solo violin and button accordion with chamber orchestra), with Atis Bankas, Jim Hiscott, and the Orchestra of St. Mark's, led by Daniel Swift; IN MEMORIAM WALTER KLYMKIW (SATB Choir, soloists, and violin solo), given by the Oleksandr Koshetz Choir with vocal soloists and violinist Gwen Hoebig, conducted by Laurence Ewashko; and NORTH WIND (dizi and orchestra), with Xiao-Nan Wang and the Winnipeg Symphony Orchestra, led by Music Director Andrey Boreyko.
STRING QUARTET #2 from his recent CBC Records CD "Blue Ocean / Music of Jim Hiscott" was nominated for Outstanding Classical Composition at the 2004 Western Canadian Music Awards.
Christien Ledroit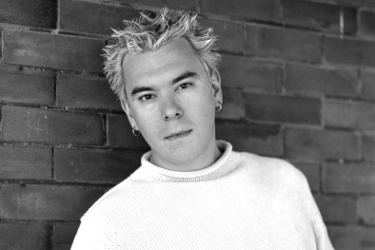 Christien Ledroit was born in 1975 in London, Ontario. He studied music composition at Queen's University in Kingston, Ontario and completed a Master of Music degree in composition at McGill University in Montreal in 2002. He has studied with an eclectic group of composers including Michael Colgrass, Sean Ferguson, Jean Lesage, alcides lanza, Alfred Fisher, John Burge and Marjan Mozetich.
Musical life started early with violin studies beginning at the age of five. Throughout high school Christien branched out into other forms of musical performance and songwriting, including several years playing guitar in a punk band, and chose to pursue music composition in university. During four years at Queen's University he developed his skills in composition, while still maintaining a busy performance schedule. While at Queen's Christien produced a small festival of student and faculty composers. The aim of this festival was to bring the university's music to a wider audience through more public (and publicized) concerts. For this he was able to secure funding, organize performers and book performance venues. The festival was quite well attended. He also produced and hosted an award-winning weekly radio program focusing on contemporary music. Moving to Montreal Christien was an active member of the composition area in the Faculty of Music at McGill University. Aside from numerous compositions and performances, he was also a member of the Group of the Electronic Music Studio, better known as GEMS. With GEMS, Christien wrote music for, performed in and curated several concerts in many different venues.
Today his music is most influenced by his studies in contemporary art music composition and his background in punk rock. Christien's music is characterized by a high level of intellectual composition mixed with an tendency towards aggressive and driving textures. Recent commissions have also brought an influence of the rhythms, structures and melodies of India.
Christien has received commissions and awards from many sources. Awards include two prizes at the 2001 SOCAN competition for Young Composers, including a First Prize for Shards, and a Second Prize for Elementalities. He was recently awarded the first annual Norman Burgess Memorial Fund commission, a juried commission to write a new work for student string performers. This commission resulted in Wandering the Threshold of Delirium, for solo violin and optional electronic accompaniment. Upon completion of his undergraduate degree, Christien was awarded the Maurice Dubin prize, awarded annually to an upper-year student demonstrating exceptional ability and achievement in music composition. Five of his pieces (Trade Winds, Concerto for Tuba and Strings, Shards, Push and Juegas Todos Los Dias, a setting of a text by Neruda composed as a wedding gift for his wife) have been included in the Canadian Music Centre's Professional Readings Project.
Currently Christien is writing a new work for clarinetist Heather Henderson, for solo clarinet and wind band. Recent commissions include accordionist Joseph Petric and the Penderecki String Quartet, and violinist Parmela Attariwala.
Christien lives in Hamilton, Ontario with his wife Stefanie and daughters Ramona and Chloë.
Nicole Lizée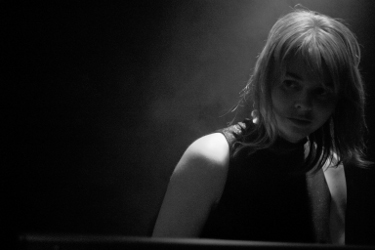 Nicole Lizée is a Canadian composer, sound artist and keyboardist based in Montreal. Her compositions range from works for large ensemble and solo turntablist featuring DJ techniques fully notated and integrated into a concert music setting, to other unorthodox instrument combinations that include the Atari 2600 video game console, omnichord, stylophone, Simon and Merlin hand held games, and karaoke tapes.
Nicole has received commissions from several artists and ensembles including l'Orchestre Métropolitain du Grand Montréal, Kronos Quartet, CBC, New York City's Kaufman Center/Darcy James Argue's Secret Society, ECM+, So Percussion, Transmission, Arraymusic, Ensemble Kore, Soundstreams, Standing Wave, Continuum, Bradyworks, pianists Brigitte Poulin and Megumi Masaki, percussionist Ben Reimer, Motion Ensemble, Kitchener-Waterloo Symphony Orchestra, McGill Chamber Orchestra, Toca Loca and l'Association des Orchestres de Jeunes du Québec. Her works have been performed in festivals including the MATA Festival (NYC), Winnipeg New Music Festival (Canada), Huddersfield (UK), X Avant (Canada), Luminato (Canada), C3 (Berlin), Ecstatic (NYC), Casalmaggiore (Italy), and Open Ears (Canada).
In 2010 Nicole was awarded a fellowship from the prestigious Civitella Ranieri Foundation based in New York City and Italy. She has twice been named a finalist for the Jules Léger Prize, most recently for This Will Not Be Televised, scored for chamber ensemble and turntables. This work was selected as a top ten recommended work at the 2008 UNESCO International Rostrum of Composers. In 2002 she was awarded the Canada Council for the Arts Robert Fleming Prize, and in 2004 she was nominated for an Opus Prize.
In 2011 Nicole collaborated with Genie award winning filmmaker Kara Blake to produce a music video for her work Ringer for Bravo TV.
Bruno Paquet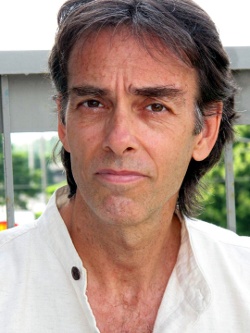 Percussionist and composer Bruno Paquet began his tabla studies with Panalal Chaurasia, in 1974. He went for further studies with the masters Swapan Chaudhuri (Ali Akbar Khan College, San Rafael), and Mukerjee Upadhyaya, in Delhi (India). He studied the Kathakali percussion instruments at the school of the Kerala Kalamandalam, in India. Thanks to a notation of his own, he could study the Kathakali music, and disseminate its repertoire in Canada through his composition, performance and teaching.
For the last twenty years, Bruno Paquet has been participating in concerts for sitar and tabla, creating and performing for contemporary dance and Kathakali. He composed Le Lion du Panjchir, a major work of over an hour performed by his ensemble, the Mahapooram, and has authored the music for En Himalayas, a choreography by Richard Tremblay, that premiered in Montreal, at l'Usine C. He also created the music for the theatre production THE ALCHIMIST, by Paulo Coelho, presented at Le Théâtre du Rideau Vert. He was a musical consultant and percussionnist in The Iliad, a Kathakali dance production revived in Singapore in which he played chenda with a group of Kathakali artists from Kerala (India). He also played chenda with mridangam virtuoso Trichy Sankaran in a concert of Talavattam, his work for the Kathakali percussion instruments, and mridangam solos which he created and presented in Montreal.
Among his compositions, Poétique d'une orbite capricieuse (1998), was presented in a concert featuring his works at La Chapelle historique du Bon Pasteur, a music centre in Montreal. Tablagni (1992), for Danse Partout, and La prière du serpent (1990) and Sondes One and Two (1992), for Danse Kalashas, are compositions which have been played in contemporary dance productions. Two of his compositions, Les arbres célestes (1994) and Parasuraman (1995), which he also performed, were presented by Danse Kalashas and Danse Cité's contemporary production at L'Agora de la danse, in 1995.
Bruno Paquet was an accompanist in dance classes from 1978 to 1986, playing for several local and visiting artists. He founded The Mahapooram Ensemble, and he is the co-founder of The Galileo Spaces, The Centre de Création pour Musique et Danse. He received arts awards from The Canada Council, Le Conseil des Arts et des Lettres du Québec, and the Shastri Indo-Canadian Institute.